What is Flaring Monitor?
Flaring Monitor is an open-source project that processes and relates NASA satellite sensor readings of heat signatures from natural gas flares to publicly disclosed ownership and reported flaring volumes to estimate the equivalent tons of CO2 emitted by companies in real-time.
Estimated CO2 Emitted
From Flaring Activities
Coverage for the largest U.S. Oil & Gas basins, with additional coverage coming in 2021
Why does this matter?
Flaring Monitor is the first project of its kind to provide company-level transparency and real-time monitoring via publicly available data, open-source code and algorithms, and the resulting datasets.
The Permian was the highest U.S. Flaring region for both 2019 (13 Mt of CO2 equivalent flared) and 2020 (7 Mt of CO2 equivalent flared)
The Delaware basin was the highest U.S. flaring sub-basin / play for both 2019 (20 Kt/d of CO2 equivalent flared) and 2020 (11 Kt/d of CO2 equivalent flared)
The Bakken was the second highest U.S. Flaring region for both 2019 (11 Mt of CO2 equivalent flared) and 2020 (5 Mt of CO2 equivalent flared)
The Top 10 Eagle Ford Flarers accounted for 65% of the total 2019 Eagle Ford Flare Volumes but only 9% of the total Produced Gas
MRO had the highest average Reported Flare Volumes in 2019 (94 MMcf/d flared gas) and 2020 (45 MMcf/d flared) for Flaring Monitor Tracked Regions
Example Summary Stats

---

---
How can I use this data and code?

Monitor company and regional trends
Understand the rate of change of flaring on an operator or basin-level
Benchmark company-reported flare volumes to independently verified satellite-based estimated volumes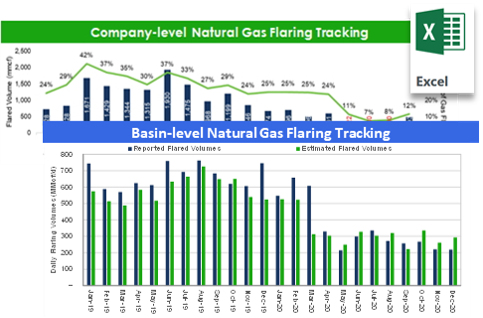 Identify site-specific Flaring anomalies
Track and quantify site-specific flares in high activity regions or locally in your community
Identify potential midstream capacity constraints in near-real time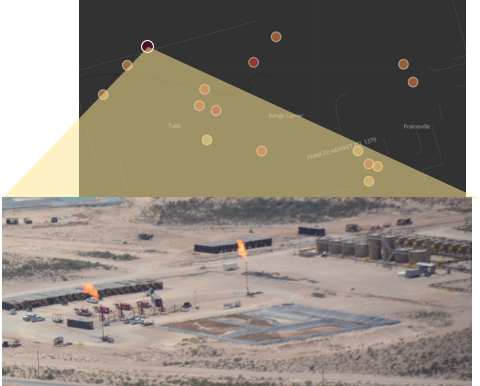 Build on our code & dashboards
Export and explore our data to discover novel natural gas flaring insights
Start from scratch with our raw data or use our derivative insights within your workflows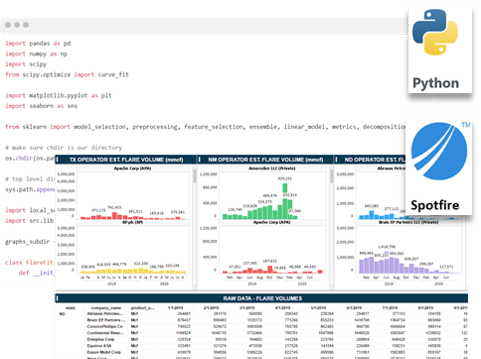 What is flaring?
Flaring is the controlled disposal of excess combustible gases from oil and gas wells, gathering facilities, refineries, power and industrial plants, mines, and landfills into the atmosphere
Why Do companies Flare?
Safety – Excess volumes periodically need to be combusted to ensure safe and consistent operations
Capacity Constraints – Insufficient natural gas gathering & processing infrastructure
Economics – Revenue from selling the natural gas is insufficient to cover the costs to gather and process the gas
Where is flaring Happening Now?
Measurable Heat Signatures and Potential Natural Gas Flare Observations (MW)
Estimated Natural Gas Flaring Volumes (MCF / Month)
How much Natural gas is flared?
Studies suggest that in 2018, ~5 trillion cubic feet of natural gas was flared globally, resulting in approximately 300 MM tons of CO2 emissions in the atmosphere
World Bank. (2020, July). Global Gas Flaring Tracker Report.
Flaring Impact
Natural gas flaring is a significant source of greenhouse gases and should be mitigated whenever possible. Flaring and its downstream emissions have the potential to negatively affect public health, agriculture, and the broader environment
Get Notified
Subscribe for data updates, new project features, and general updates.
Community and Contact
Have questions, want to learn more, or want to contribute to the project? Drop us a line!
OR